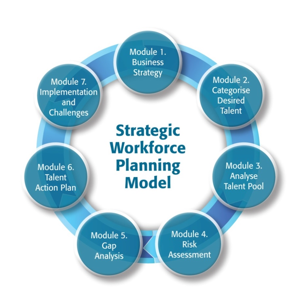 There is a lot of talk about talent in today's business world and the continuing challenge for most companies is how to find the right talent at the right time at the right cost and then retain that talent. Most business leaders now realise that their talent is the key factor in competitive advantage and strategic success. This has led to new thinking and methodologies in how to plan for talent and to ensure talent planning is bound to the business strategy. Strategic Workforce Planning is an innovative response to the challenge of talent planning to address the competing pressures of business needs and talent availability.
Strategic Workforce Planning is an extension to the existing concepts of talent management but deals with the future planning of talent and fast pace of change that affects this. Strategic Workforce Planning (SWP) represents a significant shift in how talent needs are addressed, moving the approach from reactive to one that is fundamentally more proactive, innovative and challenging. At its core, it is about aligning the talent and business strategy and linking the planning, analysis and development of both. This strategic approach to talent planning is starting to occur in the global market and is gathering pace as the right solution for organisations who want to think about their talent in a more strategic way. The innovative approach to planning and analysis addresses the real risks posed to implementation of business plans by the lack of available cost effective talent in critical areas.
This Strategic Workforce Planning model has been developed by two Irish Organisational Psychologists, Clare Mulligan and John Deely based on their own research and experience.
What do we offer in the area of Strategic Workforce Planning?
1. We provided both open and tailored in house courses.  This is in depth 2 day programme that will provide delegates with the initial expertise to apply out model to the challenges of their organisation.
2. There is a further suite of options that can also be discussed for Strategic Workforce Planning
1 hour taster about the meaning of SWP and why business trends are highlighting this as a need
Half day training programme for business leaders to build awareness and understanding
Consultancy and coaching support for HR professionals to implement SWP into their organisation
Half day quarterly top up training sessions for network of SWP HR and business people
White Paper
Clare and John have created a detailed white paper on Strategic Workforce Planning and would be delighted to share their research with you.
Further information
If you would like to speak further about Strategic Workforce Planning then please contact Clare at clare@claremulliganconsulting.ie or on 086 192 2365 or John at John.Deely@pinpoint.ie on 01 6425721.